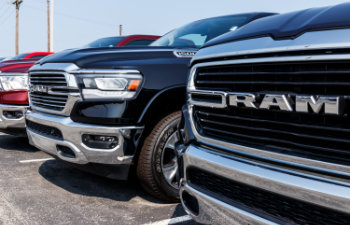 Consumer Reports just released the news on April 19, 2023, that more than 131,000 2021 RAM 1500 pickup trucks are being recalled because they "may suddenly stall while driving, which could cause a crash." The article specifies that only trucks equipped with the 5.7-liter V8 eTorque mild hybrid engine are being recalled.
RAM dealers will perform a free software update that should fix the problem. Be sure to reference NHTSA campaign number 23V265, or RAM recall number 37A, when you see your local dealer for this recall. You can also check on the NHTSA website to see if your vehicle is part of this recall. Simply enter your vehicle's 14-digit serial number.
RAM Truck Recalls
This is only one of ten recalls issued for 2021 RAM 1500 series trucks. Some other RAM models also have several recalls. Many of these issues are potentially serious and could result in accidents, injuries or fatalities. They include:
eTorque engine stall
Brake pedal separating from the master cylinder
Rearview camera back over prevention
Tailgate may open while driving
Fuel pump failure
Side curtain air bag may deploy suddenly or improperly
The National Highway Traffic Safety Administration (NHTSA) of the U.S. Department of Transportation recommends that you not drive your RAM 1500 series truck until you check to see if it is included in these or other recalls.
Can I Pursue a Lemon Law Claim Over a RAM 1500 Truck?
If your RAM 1500 truck continues to experience problems after recall service was performed, even if it is with a recall-related issue, you may still be able to file a Lemon Law claim in your state. Lemon Larry is not an attorney, but we can help you determine if you qualify to file a lemon law claim. If you do, we can connect you with a local Lemon Law Attorney who can provide more specific information and help you with making next steps.
Remember, under most state lemon laws, you could receive a reimbursement or a replacement vehicle if you win your lemon law case, and your legal fees will be paid. Take the 7-second Lemon Larry online assessment now to find out if you can file a lemon law claim in your state over issues with a RAM 1500 series truck.