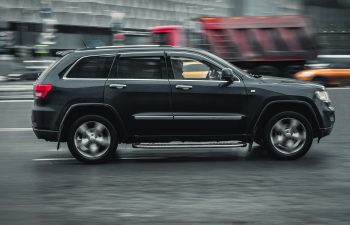 During World War II, the armed forces needed a small vehicle for reconnaissance. Requests were put out to U.S. automakers. They had little time to act because they were needed immediately.
Only two small car companies responded to the request for proposal: American Bantam Car Co., of Butler, Pa., and Willys-Overland, of Toledo, Ohio.
A prototype as built by Bantam. It was lightweight. The year was 1940.
The War Department was concerned that American Bantam couldn't keep up with the demand so it asked Willys-Overland and Ford Motor Co. for bids.
The Bantam showed it was lighter and more fuel-efficient, but its engine wasn't the strongest.
The contract from the war department was awarded to Willys-Overland. The second production contract went to Ford.
Amazingly, over 637,000 Jeeps were manufactured during World War II.
This helped with marketing, as the Army left Jeeps all over the world, which led to a loyal following.
In 1957 the FC-170, in 1963 the Wagoneer SUV, and in 1963 Gladiator pickup were built for the civilian population.
In 1953 Willys-Overland was bought by Kaiser Manufacturing Co., and the name was dropped in favor of Kaiser-Jeep Corp.. In 1969, American Motors purchased Kaiser-Jeep. In 1978, a financially weak AMC allowed Renault to purchase a 25% stake.
The Jeep Grand Cherokee is considered a mid-size SUV. It was first manufactured by American Motors in 1992. It was the follow-up to the Jeep Cherokee. The Grand Cherokee was the first Jeep product under Chrysler.
Jeep Grand Cherokee Recalls
In 2010, an investigation by the National Highway Traffic Safety Administration was launched for the 1993-2004 Jeep Grand Cherokee. It had to do with the fuel tanks. In rear-end collisions, fuel leakage and fire could occur. Over 156 deaths were caused by fires caused by Grand Cherokees crashing. The 2002 – 2007 Jeep Liberty models and the 1986 – 2001 Jeep Cherokee models were also affected.
Chrysler Corporation in 2013 recalled 2.7 million Jeeps.
The dealerships were instructed to install a trailer hitch in case of a rear impact.
Here's a list of common Jeep Grand Cherokee transmission Issues:
Hard shifting
Jarring acceleration
Pausing
Lunging
Clunky upshifting
Lag time
Feeling like getting bumped from behind
Kicking
Jerking
Bump
Other common Jeep Grand Cherokee defects may include:
Temperature Blend/Recirculation Doors Failing and causing Air Conditioning problems
Non-starting engine
Fuel tank not filling or nozzle shut off during fueling
Window Motor Failing
Erroneous Software Updates like "4WD System Service" light warning
Tail Lamp Housing Broken or Melting due to electrical problems
Keyless Entry Remote System functions issues
Failed Thermostat Check Engine Light
Malfunctioning AC Blower
Warped Front Brake Rotors causing pulsations
Pinion Seal and Transfer Case Leaks of the Front and Rear Differential
Cylinder #3 misfire causing Check Engine Light due to
Sloshing and water leak from Clogged Evaporator Drain
Switching to Defrost When Accelerating from the HVAC Air Flow
Wobble in Steering Wheel
The vehicle would not move when the brake was released
Bad parking pawl
Electronic start/stop (ESS) system would engage then disengage
Is Your Jeep a Lemon?
Jeeps come in many sizes and shapes. You may have bought or leased one, and after multiple attempts for the dealer to repair it during the manufacturer's warranty period, it's still not fixed. Guess what? It may be a lemon!
It's estimated that around 1% of ALL vehicles that are leased or purchased in California are LEMONS.
If it's determined that your Jeep is a lemon, lemon laws can protect you. An attorney will represent you at no out-of-pocket cost to you. This is because the law states that all attorney's fees are to be paid by the manufacturer for producing a lemon that was sold to you! This means you may get a new vehicle replacement, a refund, or a cash settlement.
Here are some good tips about Jeeps and California Lemon Law.
If you suspect your Jeep is indeed a lemon, then get started by making sure you complete our 7 question online pre-qualification form. Lemon Larry will guide you through the entire process. Also, be sure you have taken your Jeep to the dealership at least two times so they can try to repair your issue.
It's also super important that you ask for the Jeep Repair Orders. This is your proof that you gave them reasonable chances to repair your vehicle.
Lemon Larry has helped hundreds with their Jeep problems and we can help you too.